TRANSITions - High Speed Transit Forum
Design's Impact on High Speed Rail, Maglev Trains and Personal Rapid Transit
| Testimonials | ArtRocks! Interview | KUSI 9 News Segment | Forum Prize Winner | Dii Team Members |
Thursday, November 12, 2009 6-8 P.M.
Brown Chapel, Point Loma Nazarene University, San Diego, CA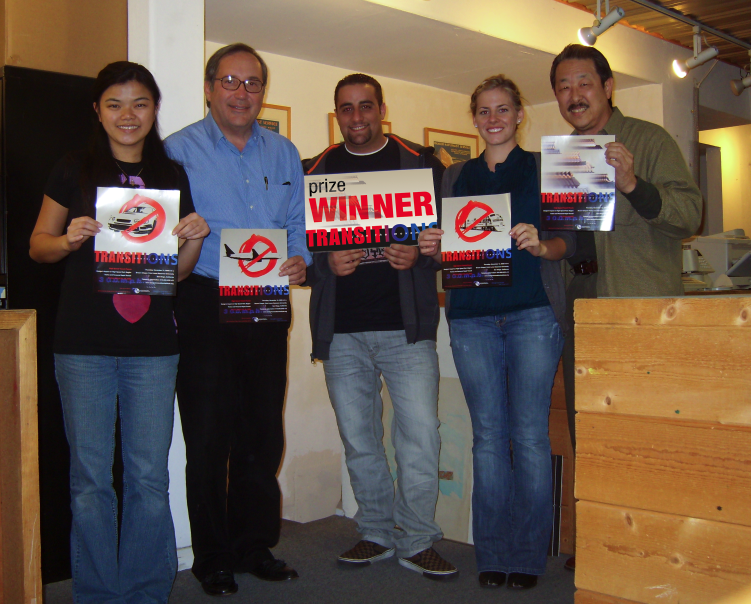 Meet our "TRANSITions: High Speed Transit Forum" Staff

Key Staff members assigned to Design Innovation Institute's TRANSITions High Speed Transit Forum are left to right: Sivly Ly, executive administrator, Mark Adler, program chairman, Yad Hamawandi, lead planner, Samantha Penley, event coordinator and Calvin Woo, Dii Executive Director.

Program Summary

In a sustained, dedicated effort, Design Innovation Institute, based in San Diego produced the nation's first forum on the use of a whole-brain approach to the design of the country's next generation transit modalities.

The program included the presentation of design insights by keynote speaker - psychologist, author and educator, Dr. Richard Farson. His remarks linking the need for leadership with the creation of improved designed situations was a fitting prelude to the panelist presentations and audience questions that followed.

The forum brought together an unprecedented interdisciplinary panel of visionary leaders in the fields of transportation, economics, business and design. Sarah Catz, California Transportation leader, served as moderator. Panel members included American Magline head, M. Neil Cummings, Economist Dr. Alan Gin, marketing strategy professor Harry Watkins, transit designer James McJunkin, urbanist Richard Flierl and transit infrastructure manager Eric Anderson.

All panelists focused their talks on three transit modalities planned for the nation's near term horizon e.g. high-speed rail, magnetic levitation trains and personal rapid transit. Visual presentations highlighting the modalities were presented at intervals in the program. An institute film highlighting existing world high-speed transit systems complemented films provided for the event by TrenItalia, Italy's state rail company and Advanced Transport Systems Ltd. (producers of the Ultra PRT) of England.

Advanced Transport Systems gave the forum audience the world's first look at a synchronized high-speed transit system; one incorporating personal rapid transit as a collector system for riders on high-speed train systems and/or passengers destined for airports. ATS congratulated the Design Innovation Institute for its leadership in organizing a unique and historically significant event.