We appreciate your tax deductible gift to qualify as a Charter Member

Continuing to move forward: President Obama's 2011 State of the Union Address focus on transportation, innovation, and sustainability inline with Dii's High Speed Forum.
TRANSITions - High Speed Transit Forum
Design's Impact on High Speed Rail, Maglev Trains and Personal Rapid Transit

| Testimonials | ArtRocks! Interview | KUSI 9 News Segment | Forum Prize Winner | Dii Team Members |
Thursday, November 12, 2009
Brown Chapel, Point Loma Nazarene University, San Diego, California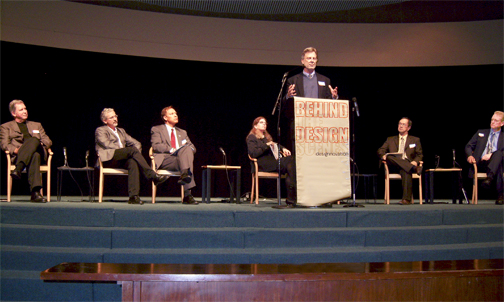 In a sustained, dedicated effort, Design Innovation Institute, based in San Diego produced the nation's first forum on the use of a whole-brain approach to the design of the country's next generation transit modalities.

The program included the presentation of design insights by keynote speaker - psychologist, author and educator, Dr. Richard Farson. His remarks linking the need for leadership with the creation of improved designed situations was a fitting prelude to the panelist presentations and audience questions that followed.

The forum brought together an unprecedented interdisciplinary panel of visionary leaders in the fields of transportation, economics, business and design. Sarah Catz, California Transportation leader, served as moderator. Panel members included American Magline head, M. Neil Cummings, Economist Dr. Alan Gin, marketing strategy professor Harry Watkins, transit designer James McJunkin, urbanist Richard Flierl and transit infrastructure manager Eric Anderson.

Click Here for More Event Details

Design Innovation Institute Summer Youth Design Camp July 2024

Join us in a scholarship fund drive at $1,000 per student to introduce campers to practical applications of math, science and literature in the design process.

Send us a donation to help get this event started!


Find out more about this event


Request a Design Camp DVD for further information regarding the camp.

GoodSearch.com

Ever hear the saying, "Every penny counts"? In this case it does! Dii will earn a penny with each search you make using GoodSearch.com.

- Simply click the banner (below)
- In the "Who Do You GoodSearch For?" field, type in Design Innovation Institute and hit the "verify" button
- "Design Innovation Institute (San Diego, CA)" will load
- That's ALL!.....now start searching and help Dii earn .01 with each search you make!